Being located way down in the South Pacific, New Zealand finds itself in the middle of summer at Christmas time, so the celebrations take on a completely different form – families typically flock to beaches, go swimming and stay outdoors as long as they wish, coming back indoors only for the festive dinner. Read on to learn how to have a jolly good time in the Christmas season in New Zealand.  
What to Expect From a Kiwi Christmas 
There's no such thing as white Christmases in NZ which are typical for the northern hemisphere's snowy winter Christmases. The Kiwis mostly enjoy warm and sunny weather each year on 25 December with their traditional versions of the Christmas tree and food delicacies.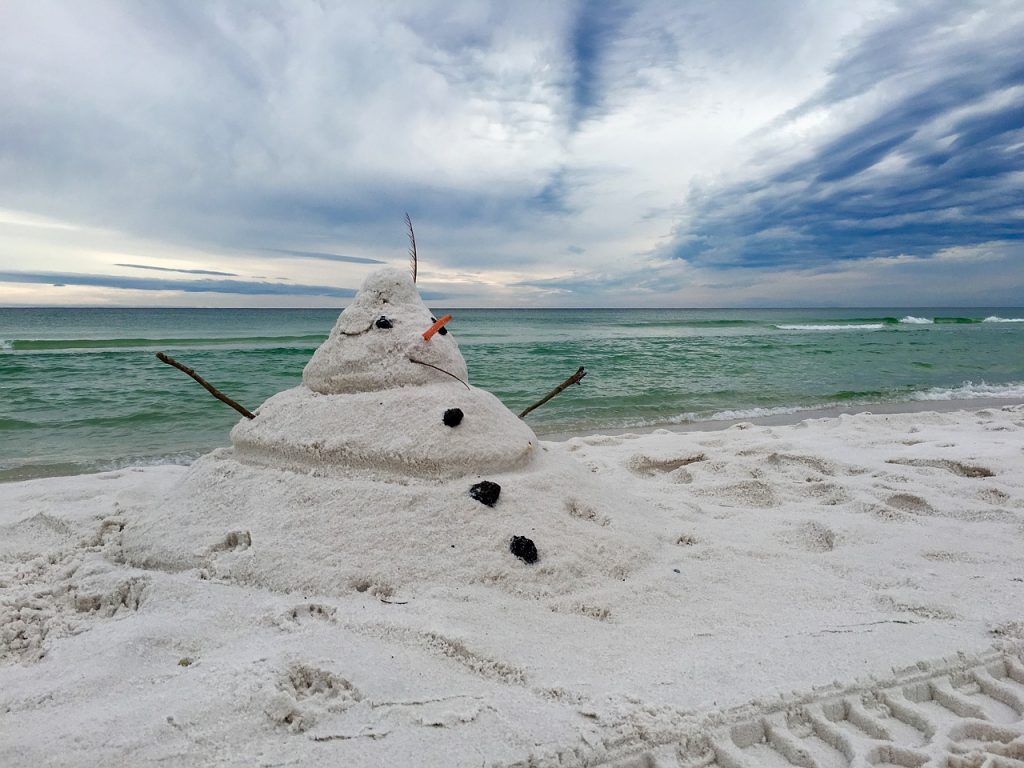 Kiwi Christmas Trees
Similar to the northern hemisphere way, Christmas in NZ is celebrated with Christmas trees, presents, stockings and traditional decorations. The Kiwi traditional Christmas tree is the native pōhutakawa, which is usually found in coastal areas. It's a red-needled, shade-offering tree that is more of a spiritual Christmas tree for New Zealanders and it's not usually cut down and brought indoors for display due to their protected status. For this purpose, pine trees are used and there are plenty of them in NZ.
Kiwi Christmas Food 
A typical Christmas dinner, which sometimes turns into lunch, differs from one family to the other but often includes a roast ham/chicken/turkey with vegetables, kumara (similar to sweet potato), potatoes and gravy. Desserts usually take on a British theme which means there's a 'Christmas cake' (fruit cake) served with steamed 'Christmas pudding' and mince pies. One dessert the Kiwis love to serve and call it their signature dessert is the Pavlova — a large meringue coated in cream and topped with sliced fruits like strawberries and Kiwi Fruit.
The real summer king of the parties is the barbecue, so it's not unusual for families to get it cranked up even on Christmas day. Also, a beach picnic is another beautiful way to dine on Christmas Day. If you're especially lucky during your visit, you might get a chance to sample a traditional Māori Hāngi dish made of meat and root vegetables cooked in the ground using hot rocks.
A Short Break until New Year's Eve
The New Year's Day, January 1 and January 2 are both public holidays in NZ, so New Year's Eve parties are really a big thing and many people take days off their work and have a summer holiday stretching from Christmas Eve throughout to January 3, or even longer. Taking a dip in the water on Christmas Day is a kind of a ritual in New Zealand, and most NZ beaches get swamped with people using the presents they had received that morning!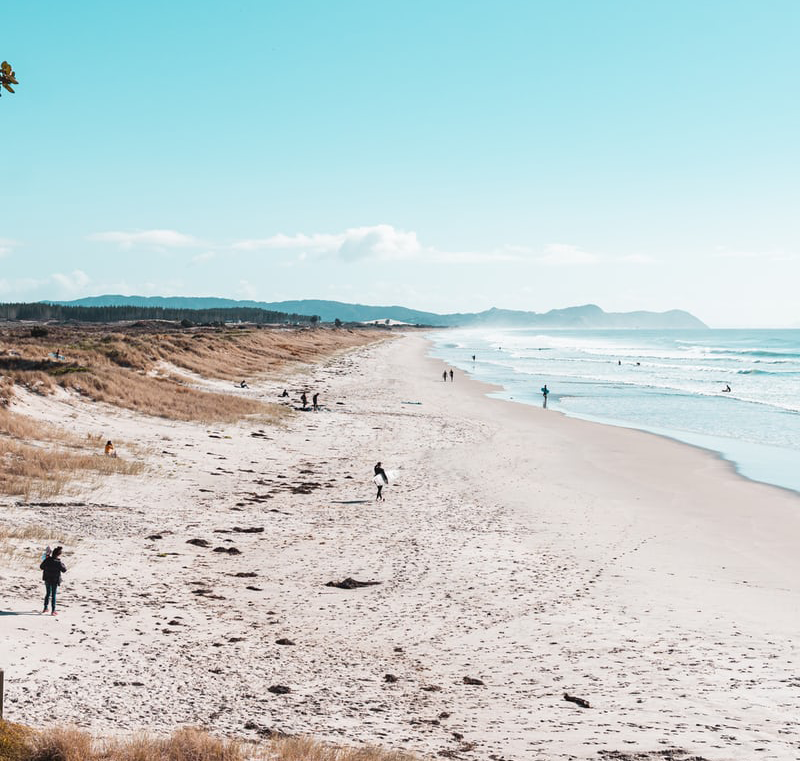 Road Trips around New Zealand in the Holiday Season
NZ is a long and slender country so exploring it by road is probably the best way to reach all the best summer spots in the Christmas season and holiday. A very convenient and recommended way of travelling is by renting a free transfer car – it's green, affordable and gives you all the freedom you want to make numerous road trips to beaches, villages, towns and sites around all over the country. 
What to Expect from a New Zealand Summer
Summertime in New Zealand is all about being out in the great outdoors and taking advantage of the warm weather and gorgeous scenery. The summer lasts from December to February with temperatures ranging from 20 degrees Celsius up to the mid-30s, but this depends on the region.
As much as we all love spending time outdoors basking in the summer sun, you have to be careful and bear I mind how harsh the sun can be. The best advice is to stay SunSmart, avoid direct sun exposure and sunburns, but most of all, follow the local rule of the slip, slop, slap and wrap — slip on a shirt, slop on sunblock (SPF 30+ minimum), slap on a sun hat, and wrap on a pair of sunglasses.
Swimming in New Zealand's sea, lakes and rivers
Since NZ is an island country, there's no shortage when it comes to amazing beaches, lakes and rivers to that offer a cool escape from the summer heat. Swimming and surfing are a mandatory part of Kiwi summer experience and some of the beaches and swimming spots offer free access to their idyllic grounds.
Hiking and Cycling in New Zealand
In the lands of down under, hiking is often called 'tramping' and there are some amazing trails to explore that stretch the length of the country. Visitors can choose the terrain according to their level of fitness so the walks can range in length from 20–30 minutes right up to several day missions that include staying overnight in huts along the trail. A thing to remember is you should get prepared for all weather conditions and inform your friends or family where you are going – safety first! 
Cycling and mountain biking are quickly gaining popularity in NZ so you have the option of buying or renting a bike and enjoying dedicated cycle paths. Whatever you choose to do while in New Zealand, spending Christmas there will certainly be a unique experience that will give you life-long memories and probably entice you to keep coming back!