The following five invigorating day hikes will take you across the country, from the best spots in the North Island to the emerald lake gems in the central region and the adventure hotspots in the south. If you've been looking for extra information on the best hikes in New Zealand, you've come to the right place – all that's left to be done is secure reliable transport such as renting a free transfer car so you needn't worry about the time lost in between these spectacular locations.
Ben Lomond
If you're looking towards New Zealand's South Island as your starting point, consider Queenstown for a day and Ben Lomond as a fantastic day hike. Overlooking Queenstown, or the adventure capital of the world as some like to call it, Ben Lomond offers a memorable day hike that starts right in the heart of New Zealand's adrenaline hotspot. Follow the Tiki Trail up to the Skyline building but be careful about its first section as it's quite steep. However, the spectacular views over Lake Wakatipu are worthwhile! 
Just when you think that was all, you'll be struck by awe-inspiring views towards Mount Aspiring National Park. By this point, you'll have reached nearly 1,500 metres in elevation after about six hours of hiking. Bear in mind that at these altitudes, the weather conditions can be tricky so be prepared. 
Tongariro Crossing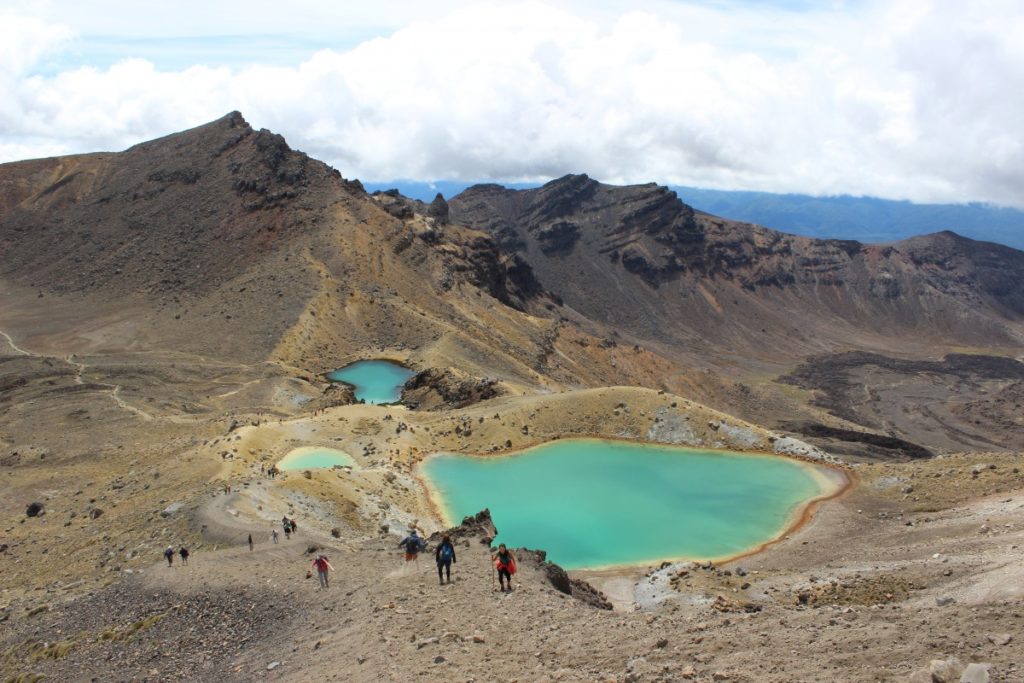 With New Zealand's South Island being so popular for its hiking trails, it can be easy to overlook some of the fantastic hikes on the North Island. The Tongariro Alpine crossing is generally considered to be one of the best day hikes not just in NZ but in the world as well. The walk takes you through New Zealand's oldest national park, Tongariro National Park, beginning right at the end of the Mangatepopo road. 
This hike is surely not for the faint-hearted! This terrain is quite unique being that this is an active volcanic area. As you approach the Red Crater, you might be tricked into believing you've landed on Mars – fiery red characterises the area making it appear almost surreal.
It'll take you a minimum of seven hours of hiking to reach the Ketetahi Road End with a 1,196-metre change in elevation as you progress towards the crossing so be prepared for lots of ups and downs throughout your day. On the plus side, you'll get to enjoy true beauties of nature, such as the Emerald Lakes and the Blue Lake.
Lake Rotoiti Circuit
The furthest north of our selected locations in New Zealand's South Island is Lake Rotoiti, a true local gem located in Nelson Lakes National Park. The day track starts on Kerr Bay, on the shore of Lake Rotoiti. And most of it will take you through a plethora of ferns, mosses, beech trees, and a wide range of peculiar greens. Birdlife comes in abundance as well with Tui and Bellbird/Korimako often heard in a singing battle. Underwater life doesn't disappoint either, of which the most notable specimen is the New Zealand longfin eel. 
Out of all great hikes in New Zealand, this is one of the longest there are so expect it to take at least seven to ten hours to complete the full circuit depending on the weather and your stamina.
Mueller Hut Route
Mueller Hut Route takes you through the Aoraki/Mount Cook National Park and as soon as you embark, you will realise why this is considered one of the best hikes the South Island of New Zealand has to offer. It all begins from the White Horse Hill car park that is a quick drive from Mount Cook Village.
As you climb towards your first milestone Sealy Tarns, you'll be able to see the Mueller and Hooker Lakes in the valley below. It's also quite common to hear and see Kea and New Zealand Falcon along the route. Once you've managed to reach a set of small ponds, the first part of your journey will be complete and despite having climbed 1,882 steps, this is where the real challenge begins – the trail terrain dramatically changes! 
Just make sure you follow the orange trail markers as the weather can turn in a second at this altitude. Once you reach the ridge, you will be rewarded with a magnificent view of the Mueller Glacier. Going south towards the hut, it should take you about 20 minutes to reach this famous Alpine Hut that offers unforgettable views of many of New Zealand's highest peaks.
Rocky Mountain
As one of the jewels in the Wanaka hiking crown, Rocky Mountain stands out with its flexible offer – several trail options lead from the car park, making it a perfect place to hike with people of different abilities. All of the hikes are under three hours, so they're ideal for half a day of hiking.
The simplest and easiest option here is a gentle stroll around Diamond Lake along a 2.5km / 1.8-mile track that meanders around the lake with plentiful birdlife to be seen and heard. A step up from this is the Diamond Lake Lookout trail that offers a lush view over the lake. If you have your mind set on the very top, once you reach the Lake Wanaka lookout, you'll be greeted with stunning views of the lake and its little islands.
Hopefully, by now, you've got your bags packed up and hiking boots on ready to start your NZ day adventure in the great outdoors!