When deciding on the itinerary for a trip to New Zealand's South Island, most people have some reservations about whether it's worth going there in winter. As it's quite far south, the common idea is that the entire trip would be about footslogging through snowy winter tundra. 
The reality is that New Zealand is quite a small country and there's no big difference between the North and South Island. A lot of Kiwis claim that the South Island is wonderful in any season, particularly in winter when there's less crowd and it's more peaceful.
So, if you have your heart set out on seeing the South Island in winter but you're still hesitant, here are 5 good reasons why you should give it a chance.
Visit South Island's hot pools
Summers in New Zealand are all about escaping the sun and cooling off in rivers and glaciers so the hot pools are the last thing anyone would want to do then. However, in winter, this is the place to go. The South Island offers a great number of hot pools for you to try while you're there.
If you're keen on spending time outdoors, head to the West Coast to the Welcome Flats Hut on the Copeland Track. To stay as fresh as possible for the 20km walk it offers, you might opt for a free transfer car to get you there quickly with all your outdoor gear. It is a long walk but quite gentle with minimal elevation change that leads you to a modern hut where you can rest for the night and take a dip in one of the three hot pools. 
For travellers who want to skip the hike and simply enjoy hot springs, there are the luxury hot springs in Lake Tekapo or Hanmer Springs. Whatever location you choose, you'll be able to enjoy a relaxing soak with epic views.
Explore small towns' delights
In the summer, everyone wants to be outside as much as possible, so winter is an ideal time to stay in and explore the delights and quirks that make each South Island town so special.
There are many interesting pit stops you can make during your South Island road trip. You might want to check out the Totara Estate, a historic 1800's South Island farm considered as the birthplace of New Zealand's billion-dollar frozen meat industry. Or you're more interested in some quiet time as you thumb through an amazing collection-worthy adventure literature books at Adventure Books in Oamaru. 
For some more downtime, catch a movie at Cinema Paradiso in Wanaka where you can cosy up in couches and during intermission, relish in their famous freshly baked cookies or even a glass of local wine. Such hidden joys are overlooked in summer when tourists rush to spend time outdoors in the sun, so winter is the time when you can enjoy these secret spots.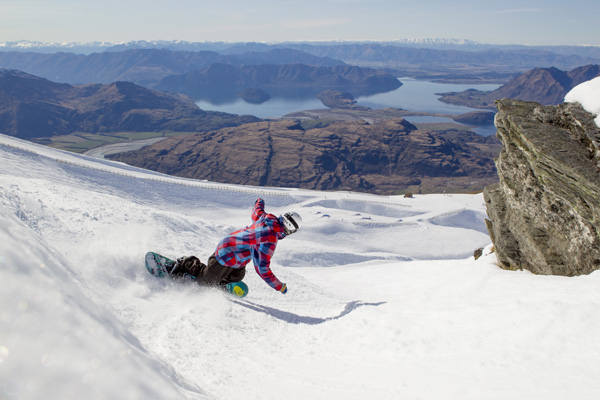 Enjoy the outdoors
Even if skiing and snowboarding isn't your thing, you can still enjoy quality outdoor time in winter. While everyone is having a great time up the mountain, you can still revel in the incredibly mild climate. It does get a little chilly sometimes but the temperatures rarely drop below zero in the winter and snow is nowhere to be found on the ground.
There's a list of things you can outdoors: go for a walk, ride a bike, do an ollie at the skate park, play frisbee golf, paddle out to Ruby Island in Wanaka and climb up a waterfall on the Via Ferrata, go window shopping, enjoy a drink of wine or beer in the sun, skydive pretty much everywhere, horse hike up a mountain, and take a ski-plane onto New Zealand's longest glacier and try snowshoeing. 
Unless it's raining cats and dogs, the winters are quite pleasant on the South Island so you can easily enjoy your time in nature just like in summer only now with some extra clothing like a true Kiwi!
Hit the slopes
One of the biggest attractions of the South Island in the winter is the access to superb alpine terrain and a handful of excellent ski fields.
The stunning views at the top of Treble Cone soft white powder overlooking sunny Lake Wanaka will take your breath away! Treble Cone is ideal for all abilities – there are bunny slopes for beginners and a backcountry lift pass that takes you to some of the best fast slopes for pros. Whether you like busy crowded ski resorts or quiet and unique club ski fields, you're bound to find something to your taste. You might even buy yourself a sledge from The Warehouse and hit the slopes like a kid on a snow day. 
Whatever you may like, just get out there, take advantage of wonderful South Island's winter and enjoy its magnificent snowy landscapes, hiking trails, great wine and beer and the local spirit of quirky small towns.