People travel from all over the world to ski in New Zealand and it's not surprising why.
Blessed with snow kissed mountains that stand as high as 3,700 metres and huge volcanoes covered with fresh powder, New Zealand is a ski and snowboarding paradise.
The ski season starts around mid-June and closes around the beginning of October, offering 4 months of play time for the serious and not so serious riders.
Slopes range from the totally novice to extreme black diamond skill levels and if you want that something special, heli-skiing will take you to remote slopes and glaciers far from the reach of road transport.
What's even better is what the French call apres-ski.  When your body needs a bit of a rest from the slopes, the local resort towns of Queenstown and Wanaka nearby the ski-fields offer anything from a blast in a jet boat, a swing from a bungy or a night out at one of the many bars and clubs that pump until the small hours of the morning.
Here's a little run-down of some of the best ski fields on offer:
North Island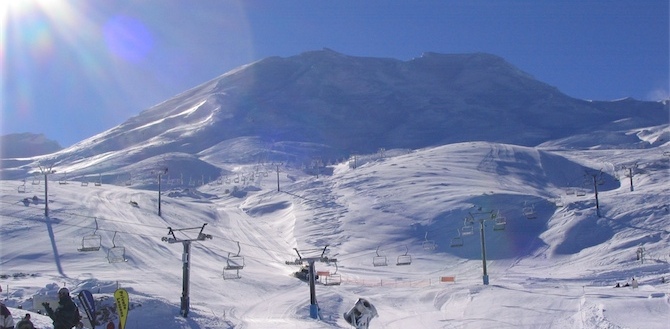 Right in the heart of the North Island, Mt Ruapehu claims some of New Zealand's longest and highest ski areas, Whakapapa and Turoa. With its premiere beginners facility that has its own dedicated slow-moving chairlift and ski school, it is a hot spot for newbies. But don't be fooled, there are some great intermediate and advanced trails to sink your skis into!
RATINGS: Beginner 25%, Intermediate 50%, Advanced 25%
HIGHEST LIFT POINT: 2300m
VERTICAL: 675m
SKIABLE AREA: 550 ha
LIFTS: 7
T-BARS: 4
PLATTERS: 2
Manganui is a unique North Island mountain experience, located in the Egmont National Park on the slopes of Mt Taranaki. In fact it's the only field in Taranaki! Great for all ages and levels and another must see spot in any season.
RATINGS: Beginner 5%, Intermediate 30%, Advanced 65%
HIGHEST POINT: 1,680 m
VERTICAL: 420 m
SKIABLE AREA: 59 ha
LIFTS: 3 rope tows, 1 T-bar
South Island:
Queenstown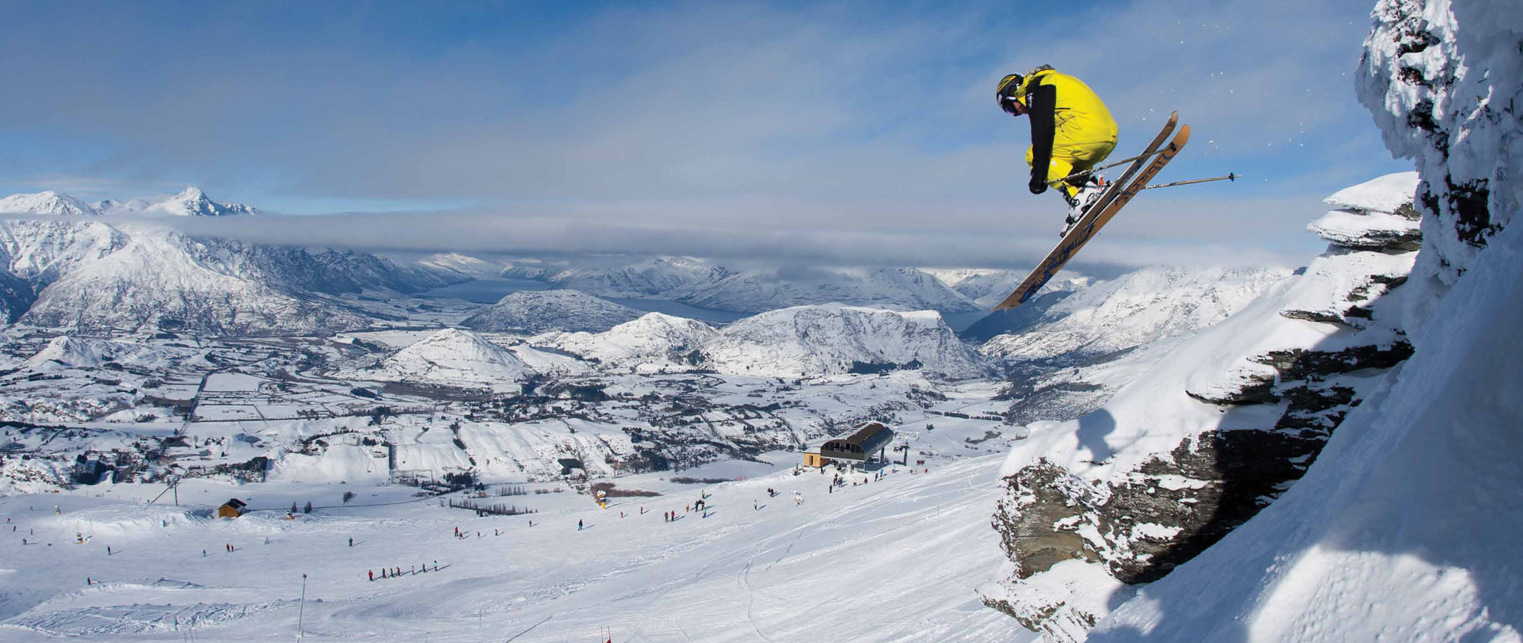 The spectacular view aside, The Remarkables boasts some of NZ's best beginner terrain and black diamond runs. Just 45 minutes from Queenstown, this stunning resort features an excellent selection of progressive terrain parks to big mountain steeps, catering to both beginners and full on riders alike.
RATINGS: Beginners 30%, Intermediates 40%, Advanced 30%
HIGHEST LIFT POINT: 1943m
VERTICAL: 357m
SKIABLE AREA: 220 Ha
LIFTS: 3 Quad Chairs, 3 surface conveyor lifts, 1 handle tow
The choice for the locals, Coronet Peak is a riders dream with its diverse terrain and the largest snowmaking system in the Southern Hemisphere, guaranteeing a ripping season regardless of the conditions. At just 20 minutes away, Coronet Peak is the closest ski area to downtown Queenstown. But if that's not enough, heli-skiing provides an opportunity to access some of the most pristine steeps available with the Southern Alps terrain offering the ultimate adventure for advanced skiers and boarders.
RATINGS: Beginners 25%, Intermediates 45%, Advanced 30%
ELEVATION: 1649m
VERTICAL: 481m
SKIABLE AREA: 280 Ha
LIFTS: 1 high speed six seater, 2 express quads, 1 T- Bar and 4 surface conveyor lifts
There is a pretty comprehensive guide to Skiing in Queenstown which you can see here: https://queenstowninsider.com/ski-queenstown-new-zealand
Cardrona is a resort loved by families and beginners due to its wide open groomed slopes, terrain parks and family atmosphere and comprehensive kid's centre. As research shows that 3 minutes is about as long as any average person is prepared to wait for anything these days, the high-speed chairlift in the Captain's Basin is a blessing, meaning less time in queues and more time on the slopes.
RATINGS: Beginners 20%, Intermediates 55%, Advanced 25%
ELEVATION: 1860m
VERTICAL: 600m
SKIABLE AREA: 345 hectares
LIFTS: 2 quad fixed chairlifts, 2 quad express, chairlifts 2 surface conveyor lifts, 1 platter tow lift
Claimed to be the largest ski area in the South Island and holding some of the longest and most exhilarating runs in New Zealand, Treble Cone offers a real New Zealand snow experience. With the longest vertical rise in the Southern Lakes and spread over two large basins, Treble Cone is both breathtaking, exhilarating and mind blowing for the extreme free riders looking for more.
RATINGS: Beginners 10%, Intermediates 45%, Advanced 45%
ELEVATION: 1960 m
VERTICAL: 700 m
SKIABLE AREA: 550 Ha
LIFTS: 4
Another must do in the rider's bucket list is Mt Hutt. Just a 35 minute drive from Methven, Mt Hutt ski field is one of the largest ski areas in NZ, offering some of the best mix of skiing terrain of any ski area in the South Island. With plenty of runs for all skier/rider types, including a great beginner's area with a 140m long Magic Carpet, Mt Hutt also boasts superb advanced terrain and a great south facing basin with breathtaking views over the Canterbury Plains to the Pacific Ocean.
RATINGS: Beginners 25%, Intermediates 50%, Advanced 25%
ELEVATION: 2086m
VERTICAL: 683m
SKIABLE AREA: 365 Hectares (excludes Rakaia Saddle Chutes of 107 hectares)
LIFTS: 1 high speed six seater, 1 quad, 1 triple, 1 Magic Carpet
Just a 60 minute drive from Christchurch and on the doorstep of Mt Hutt Ski Field, Methven offers an amazing array of activities on and off the slopes. There are loads of excellent restaurants, bars, friendly local pubs and entertainment plus the usual array of jet boating, horse riding, hot air ballooning, mountain biking and 4WD high country adventures. Just the usual 🙂 And to top it off, Methven's offering every child ten years and under FREE travel, FREE accommodation and FREE meals when accompanied by a paying adult. Kids ten and under also receive FREE skiing at Mt Hutt. For a full list of participating businesses and all the info visit www.kids4free.co.nz
So if you are planning your winter trip to the ski fields and need a ride, remember to check out Transfercar.co.nz for our free relocation cars and campervans!