As a country that is surrounded by the sea and has an abundance of lakes and rivers, New Zealand provideskayaking enthusiasts with plenty of great opportunities. If you are one of them, now's the time to get your free car and explore the best kayaking spots that this country has to offer.
Marlborough Sounds
Located at the very top of the South Island, the Marlborough Soundsboasts countless hours of sunshine, in addition to being adorned by the marvelous turquoise seas. It consists of around 1500km of coastline, so finding a spot you can call your own is anything but difficult. If you are a fan of Tolkien, you can paddle to the Pelorus River, the filming location of the famous barrel scene in The Hobbit: The Desolation of Smaug. The region is globally renowned for its viticulture, so you can enjoy a glass or two of some truly exquisite wines after your kayaking expedition.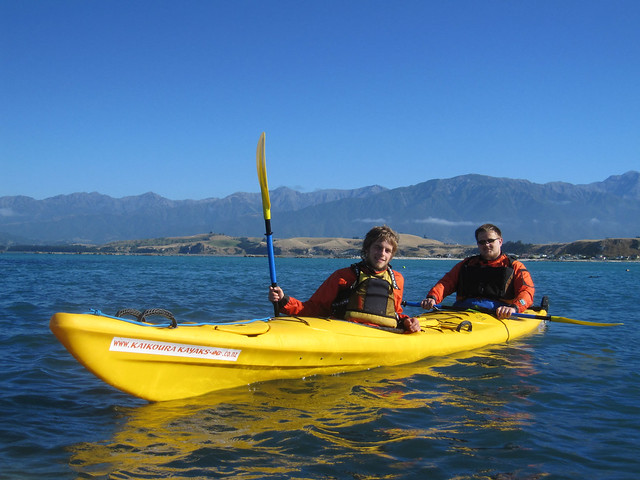 Kaikoura
Kaikoura, one of New Zealand's best spots for wildlife encounters, provides a truly unique kayaking experience – paddling amongst a plentitude of dolphins, fur seals, penguins and sea birds. Just imagine absorbing the stunning scenery with mountain tops, craggy rocks and sheer cliff faces while you casually paddle around the coastline in the fresh breeze that comes off the ocean, enjoying the marine life from up close up. You can simply hire a kayak or opt for one of the daytime or sunset tours. 
Whanganui River
Whanganui, New Zealand's third-longest river, is a great destination on the North Island for those interested in spending several days onsome serious freshwater kayaking. One of its legendary routes, which you can do with a local guide or on your own, is the five-day river expedition, (145km) from Taumaranui to Pipiriki. Throughout the journey you'll be immersed in lush native forestry, historic sites and some really interesting local gems. If you need a brief rest along the way, the Bridge to Nowhere is the iconic stopover frequented by both kayakers and inland trekkers. The three-day trip from Whakaroro to Pipiriki is a viable, slightly shorter alternative.
Cathedral Cove
Arguably the most popular attraction in the Coromandel Peninsula, Cathedral Cove and its magical surroundings are best experiencedeither by taking a long stroll across the pristine coastline or by setting off on a kayak journey. You'll get a chance to revel at numerous exciting rock formations, the surrounding marine reserve and, naturally, the famous arched cave after which the beach was named. And if you're lucky, some dolphins may accompany you for a while during your paddling journey.
Lake Taupo
Lake Taupo, New Zealand's largest freshwater lake by surface, is the go-to destination for watersports aficionados. Whether you decide to embark on a tour or hire a kayak, you'll be amazed by the seemingly endless sightseeing opportunities: volcanic hot pools, the local Maori rock carvings, turbulent river rapids and gushing waterfallsare just some of the wonders you'll bask at during your paddling endeavour. The lake is also quite a popular for trout fishing, and aside from local chartered boat fishing tours, there's even an option for kayak fishing. Just how good does that sound?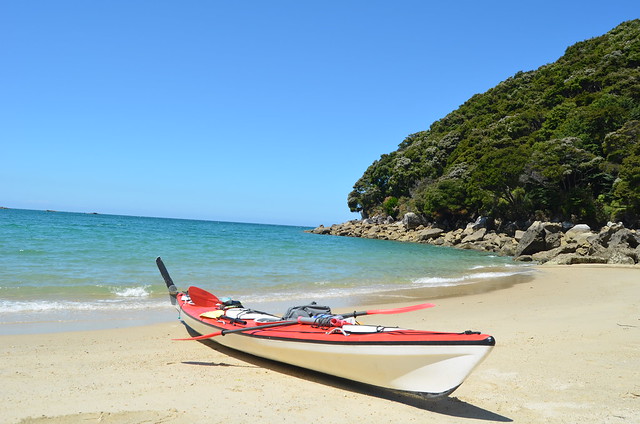 Abel Tasman National Park
Encompassed by majestic forests and sheltered beaches, the Abel Tasman National Park is the place to be if you are looking for the perfect balance between the ocean and the land. As the paddling activity is immensely popular among the park's visitors, a number of kayak tour operators and rental companies can be found in the area. With its resident fur seals, Tokangawhā (Split Apple Rock) is the number one attraction for many. Golden sand beaches, intimate lagoons and islands are some of the other picturesque gems you can enjoy seeing and visiting. 
The Bay of Islands
With more than 140 subtropical islands, breathtaking beaches and magnificent marine reserves, it's no wonder that the Bay of Islands attracts so many kayakers. The charming towns of Paihia and Russell are the mainspots for guided tours and kayak hires. The former often include tasty meals prepared with local produce, fresh seafood and home-made desserts. The scenic highlights are the islands of Urupukapuka and Motorua, the Haruru Falls and the Waitangi River.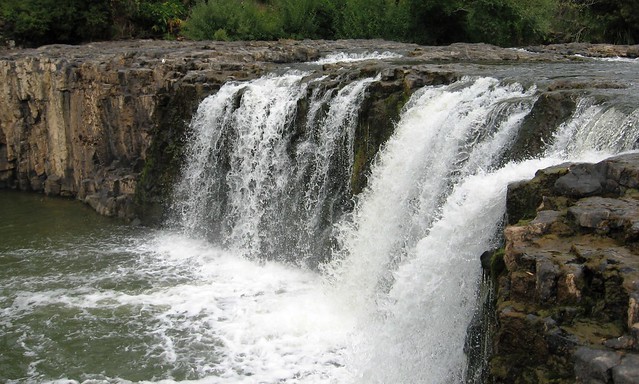 These were just some of the great spots for kayaking in New Zealand, yet it is fair to say thatwherever you find yourself in this beautiful country, there's probably going to be somepaddling right around the corner. For this reason, getting a free transfer car is a good idea, as it will allow you to comfortably go from one location to another in pursuit of this exciting sporting activity.