The Ultimate Guide to Free Travel in New Zealand
Kia Ora, travel bugs! Have you been longing for a trip around New Zealand but your bank balance is a hurdle you can't seem to leap? Would that be a little less daunting if you could travel using no more than the change in your pocket? Good news, we have come up with some exciting tips to help you grab the essentials for no more than $1. No hassle, just great, cheap travel. Read on.
100+ tips, including:

FREE TRANSPORT IN NEW ZEALAND
They say it's the journey, not the destination but that doesn't mean you have to spend a bomb on it. We've found plenty of options to make your journey dirt-cheap.
Free cars and campervans

Yes let's start with the obvious best deal, Transfercar, the company that makes free travel possible! You are on our website so just search for your free rental car or your free rental campervan. How is this miracle possible? Rental car companies need to reposition their fleet for new hires, and travellers can help them relocate those cars. It's 100% win-win where travellers get a free ride and rental car companies save on expensive relocation costs.
Get your free rental car now!

$1 bus rides

You can grab $1 bus fare bargains from both Naked Bus and InterCity, both well known, reliable and popular long distance New Zealand bus companies.
Naked Bus is well renowned for its $1 fares and it's possible to snatch one up on every single bus trip that they run. This is because the first seat on every bus is sold for $1 and according to them, "the sooner you book, the cheaper it will be". To give you an idea of when to get booking, buses are listed 3-6 months prior to departure.
InterCity's $1 bus fares work in a similar way, with at least one fare on every bus that they run being sold for just $1. However, they list their buses a year in advance so you have to be seriously organised to grab this deal.

New Zealand is a super friendly place, with its locals and travellers always looking to make new travel buddies to share adventures with. That's why there are a number of carpooling avenues you can explore to share travel costs or sometimes travel for free.
CarpoolNZ is a website specifically designed for people who want to ride-share within New Zealand. The drivers register their current location and destination, what time they wish to leave, and a blurb about themselves. CarpoolWorld is another good tool for New Zealand travellers. Let's Car Pool is a New Zealand government run website that allows those interested in carpooling to register and upload any trips they are taking.
Thumbs Up NZ App is a new free ride sharing app used by travellers in New Zealand finding travel mates while exploring this wonderful country and sharing their travel costs. Thumbs Up is not one of the usual "Taxi Apps", which are usually only for Inner city rides. in opposite to them Thumps Up NZ drivers are not allowed to gain any profit from sharing their ride costs.
Public Facebook groups such as 'Fellow Traveller Carpool New Zealand', 'Carpooling Otago', 'Southland/Otago Carpooling' and 'RIDES between WHANGAREI AND AUCKLAND' are a great way to hitch a ride.
FREE OR DIRT-CHEAP ACCOMMODATION IN NEW ZEALAND
A roof over your head for a dollar or less is the stuff of dreams, right? Wrong, we have come up with some solutions to the cheap accommodation conundrum. All of our tips include a roof over your head... and in most cases even walls!
Sleep for free... in a free campervan!

At Transfercar we can not only be the answer to your transportation dilemma, but we can also provide you with a comfy bed to rest your travel-tired body on. Campervans are listed regularly on our website, some even including petrol, insurance and inter-island ferry, saving you even more cash. Free accommodation in New Zealand, plus free transportation, what more could you ask for?
Couchsurfing is a concept based on the idea of a community of people willing to share their lives and homes with travellers. The community of 9 million people are "friends you haven't met yet". To take advantage of this great travel tool, just sign up on the website and create a profile, then search New Zealand and the area you intend to travel to, and scroll through the locals with a free couch for you to crash on. Once you have found your desired couch, send a 'Couchrequest'! To ensure you have a good experience make sure you have a look at the couchsurfing profiles and prior feedback.
***** If you're a keen cyclist, you can join the Warm Showers community and get free accommodation! *******

New Zealanders love their tramping (hiking in our local language) and camping, and with scenery like ours it's obvious why. Our Department of Conservation, or DoC as we like to call them, provide us with huts and campsites at amazing locations and prices. Every traveller to New Zealand should have this magical experience of sleeping in the great outdoors at least once.
There are around 350 free DoC campsites dotted all over New Zealand, and they are absolute gems in the most picturesque of locations. All the DoC campsites are registered on the DoC website by region and the cost of staying there ranges from completely free to $10 per night. Waking up on the New Zealand coastline for that price is a wonderful option for a traveller on tight purse strings.
Freedom camping exists in New Zealand on most public conservation land, however, there are some places and times of year where it is prohibited. To find out where and when is prohibited, surprise surprise, go to the DoC website.
Camper Mate is an amazing resource for New Zealand tourers. It can be downloaded as an application on your smartphone and provides information about free campsites in the area, as well as dump stations, petrol stations and even Lord of the Rings locations. This application is bound to make every camper a happy one.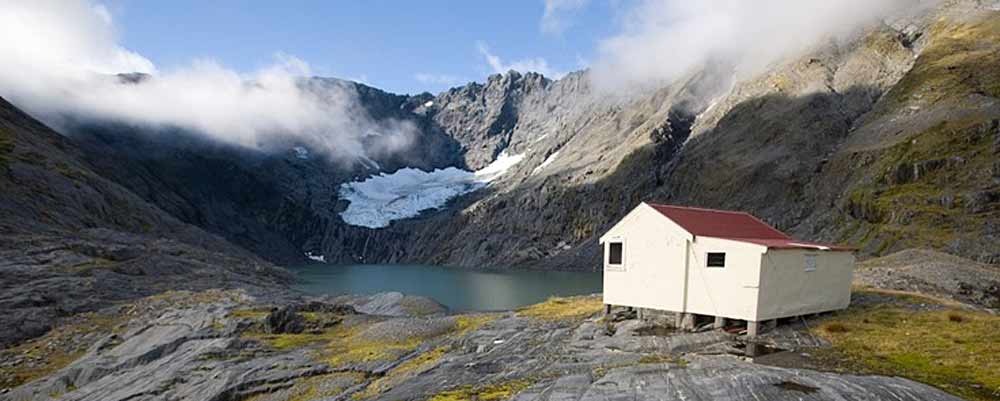 The Curious Kiwi is a site designed to cut out the tedious searching, providing you directly with information about where the free campsites in New Zealand are. Campsites are listed by location, so all you have to do is figure out where you want to go.
To find DoC huts, simply visit the DoC website.
Our advice would be to look through the huts and find the free ones, then make sure they are accessible to your hiking ability level.

WWOOFing provides an opportunity for travellers to get free food and board in exchange for work. The scheme is based on a network of friendly organic farmers who provide accommodation and a full day's food for their WWOOFers (volunteers), in exchange for around 4-6 hours of work per day. WWOOFing is a fabulous opportunity for travellers to see the rural side of New Zealand and enjoy hands-on work. If farming is not your thing though, WWOOFing NZ also offers cultural exchange hosts that provide social, humanitarian and conservation experiences.


There is no better way to live rent-free than in the comfort of somebody else's home - especially when they are out of town. House sitting provides house owners with peace of mind, knowing that their pets will be fed and garden watered, while you, the sitter, reap the benefits of free accommodation. Plus, who knows? You may even nab a mansion and get to pet some adorable cats and dogs. Sounds like you? Check out those good websites:
The House Sitting Company is a house sitting website with no registration fee, meaning the house sitting process is completely free of cost. It's New Zealand owned, with all their employees having been past or present house sitters. Bonus in this day and age: you can even call them so that you can take advantage of their expertise and personally ask any questions you have about the process.
Kiwi House Sitters is a reputable website with a vast number of houses listed from all over New Zealand. The length of stay is incredibly varied and can be from a couple of days to months. On this site, sitters are required to pay a $65 joining fee for a year of access to the website listings. Searches can be tailored to dates, location and house type, so you're almost guaranteed to find what you're after.
Home Sit is a house sitting website that specialises in locations around New Zealand. Like Kiwi House Sitters there is a joining fee, however, it is $100 for a lifetime of access to their listings. This is an established site with over 26 years of experience in the business of house sitting.
Trusted House Sitters is a worldwide house sitting organisation that has plenty of listings from New Zealand. They offer a number of options for registration, including; a 3 month plan of $25.99 per month, or an annual plan of $10.99 per month. Their advanced search options provide you with the opportunity to specify which animals you would be willing to look after and allow you to search within certain dates.


House swapping enables you to stay in fantastic houses for free...The only downside is that you actually need to own a house or apartment to be able to swap it, so if you are just renting or have left everything you owned to be on the road, then this tip is not for you. For those who own a place and want to save money, read on.
Home Exchange is a website that provides listings of available houses to swap. All you have to do is register your house as a listing, then send or receive enquiries and organise an exchange.
Kiwi House Swap is an alternative option to facilitate house swaps. It is New Zealand run and specialises in swaps within New Zealand mostly. A year long membership to the site costs $49 and you can do as many house exchanges as you want in that time.
Love Home Swap is a website that offers great international home swaps, specialising in 11 popular destinations, one of which being New Zealand. Registration fee ranges from $20 to $34 per month depending on the plan.
FREE OR DIRT-CHEAP ACTIVITIES IN NEW ZEALAND

Now that we've given you the tools needed to get around the place, it's time for you to start having fun. Activities whilst travelling can often become the biggest expense, so here are some tips to enjoy what New Zealand has to offer without breaking the bank.
Bookme is a site that specialises in great tourism deals in New Zealand. With 20-99% off, their deals make participating in New Zealand's most sought after tourist activities affordable. Common deals on this site are:
$1 Shotover Jet rides

$1 Ice Bar entries

$1 Lake Cruises

$4 Stand-up Paddle Board Hire

$4 Bike Hire
GrabOne is another website that specialises in providing its users with amazing deals for activities all over New Zealand. You can filter out any unwanted deals by clicking the 'Things to Do' section, then search-away for awesome activities for much cheaper than retail price. Examples of the deals to-be-had are:
$14 for 4 hours ski/snowboarding at Snowplanet

$11 Kayak hire

$11 rock climbing

$99 for a full day fishing charter
If you are into vouchers and deals then there are a number of other sites that list hot deals around New Zealand; Treatme, AA Hot Deals, and GrouponNZ are sites that can offer great deals on activities around New Zealand but can also be a bit hit-and-miss.
Great free natural attractions
The most popular reasons for visiting New Zealand is for its pristine nature...and yes access to nature is still free in this country! From waterfalls to volcanoes, beaches and bush treks, the land offers plenty of activities that won't cost you anything.
Things to do in the North Island

At the tip of the North Island is the magical Cape Reinga where the sea meets the ocean, the Tasman Sea and the Pacific Ocean that is. The track to the lighthouse enables you to witness the meeting of the seas. All along the walk is good information about Maori tradition and the history of New Zealand's beginnings.
For a kick of adrenaline, sand surfing at the Giant Te Paki Sand Dunes in Cape Reinga is a must. You can either take your own boogie board or hire one when you get there for $15. Also, make sure you climb to the top of the dunes for a spectacular view of Ninety Mile Beach.
If you have a car, take a spin down Ninety Mile beach, where there are no speed limits but the drive seems limitless. However no rental cars on the beach please, as any problem would cost you a fortune!
Take a trip to Rangitoto Island, just off the shores of Auckland City. This is home to the most recent of all the Auckland volcanoes. Climbing Rangitoto volcano is a great activity and at the top you can experience some awe striking 360 degree views of Auckland and the Hauraki Gulf islands. The ferry over there is just $30 for adults and $15 for children.
Hot Water Beach, in the Coromandel, provides a novel experience as it is situated on top of natural hot water springs. Simply pick your spot on the sand and dig a hole till you hit the warm water. It's a great free alternative to any Spa retreat, with the luxury of a cool plunge in the sea if you get too hot.
For a bit of a rush, visit world renowned Huka falls in Taupo, and marvel at the Aratiatia Rapids below. It's one of the most popular tourist attractions of New Zealand, and yes it's completely free of charge.
Visit the Champagne Pools and Rock Slide, just out of Gisborne. The Champagne Pools are deep, natural swimming holes carved out of rock and are a beautiful setting for a lazy day of sun-bathing and swimming. If you'd prefer something a little more exciting though, just down the road is the large Rock Slide that you can rocket down on boogie boards or lilo's. These activities are free to the public.
Following the winery routes throughout New Zealand are a great way to spend the day. The scenery is stunning and there will be in some cases free wine tasting and cellar sales at each stop. Some of the better routes are found in Central Otago, Hawkes Bay and the Wairarapa.
Rotorua and Taupo are home to amazing, not to mention free, natural thermal hot springs. Soak away your stresses in Kerosene Creek (Rotorua) and Otumuheke Stream (Taupo), situated in beautiful New Zealand bush you couldn't get a more authentic experience.
Things to do in the South Island

Both the Abel Tasman and Queen Charlotte tracks are fantastic routes to be discovered either by foot or by sea kayak. Both tracks showcase what New Zealand has to offer in nature and wildlife.
If you discover that gold panning is your thing, you can hire equipment and gold pan for pretty much nothing and dig in the rivers of Arrowtown (near Queenstown). It requires patience but while you're at it soak up the serenity of the New Zealand rivers.
You can indulge in free Frisbee Golf, to be found in the Queenstown Gardens. With similar rules to mini golf, you tee off and try to get the frisbee into 18 targets.
See the wonder of glow worms in Hokitika. Take a stroll at night to the Glow Worm Dell to experience the amazing glittering patterns that the glow worms make. It's an easy 5 minute walk off SH1 but it is recommended to take a torch.
You can witness both of New Zealand's most impressive glaciers for free by foot. The Franz Josef and Fox glacier colossal ice masses are remnants of the ice age and are retreating at an alarming rate. It's worth taking a look at these reminders of our world's icey past.
Dunedin's peninsula is home to a huge variety of wildlife. You can explore the stunning coastline to bare witness to penguins, seals, and the only mainland breeding colony for the enormous albatross.



Back to Top.
FREE OR DIRT-CHEAP CULTURAL ACTIVITIES
New Zealand is a place of rich culture. We pride ourselves on our unique history, and love of the arts. Due to our fascinating past we have a number of fantastic free museums and exhibitions that are available year round to visit. As a result of our keenness to learn about and appreciate the arts there are plenty of free concerts, festivals and events all over New Zealand at any one time. Make the most of it!
A great way to keep up to date with the festivals, shows and concerts on around New Zealand is to visit www.eventfinder.co.nz which is constantly updated with awesome events.


There are great free museums dotted all over the country, large and small. Here are some of the best free museums to visit:
Te Papa Museum is the national museum of New Zealand and is located in Wellington. Almost all the exhibitions are free of charge, so there is plenty to see and do at this magnificent, interactive museum. Learn about Maori history and the first European settlers, see the giant squid and don't forget to uncover the buried fossil in the giant sandpit outside.
The Mt Maunganui Surf Museum takes a look at surfing through the ages, with awesome old longboards, sweet surf memorabilia and fascinating photographs. This free museum makes the museum experience 'cool dude'.
The Museum of Wellington City & Sea celebrates and showcases Wellingtons social, cultural and maritime history. Learn about the tragic Wahine ferry disaster, Maori legends and stories of Wellingtonians throughout the 20th century.
Otago Museum based in Dunedin is a wonderfully vibrant museum covering topics of culture, nature and science brilliantly. You can learn about the science of Antarctic exploration, bugs, animals and people of the world ...all for free.


Music in Parks is a festival of free music concerts held in parks around Auckland from January to March. Download the full programme from the website to find out where you can see the Jazz, Rock, Hip Hop, Dub and Pop acts - there truly is something for everyone.

Summer City is an annual festival to celebrate summer in the capital Wellington. The festival includes free concerts and light shows in the beautiful botanical gardens every night of January.
Summer Days is a family friendly festival, held at Takapuna Beach in Auckland's North Shore that includes free music concerts, beach activities and competitions. It is usually held from 31st of Jan - 7th of Feb, when the weather in New Zealand is top notch.
The Winter Games is an awesome festival to celebrate the winter sports talent in Otago. The competition is accompanied with a carnival atmosphere with awesome events and entertainment. The competition is free for spectators and is an exhilarating event to get involved in.
CubaDupa is a carnival held on Wellington's famously kooki Cuba Street. It is an annual event that immerses people in an array of cultural sights, smells, sounds and tastes.


Movies in Parks is an event held in Parks all over the Auckland area. These parks are transformed into outdoor movie theatres, screening a range of films from new releases to old timers. Entry is free, all you need is a comfortable mat to lie back and relax on.
Films by Starlight is a part of the Summer City festival in Wellington and transforms areas around Wellington into outdoor cinemas. They screen a variety of films; from new to old, family friendly or even cultural from February to March.

Back to Top.
DIRT-CHEAP FOOD & DRINKS IN NEW ZEALAND

Unless you resort to dumpster diving or foraging, food and drink can't be 100% free, however, we've come up with some ways you can save on sustenance. With ''Buy one, get one for free''offers, someone is technically eating for free.
GrabOne's restaurant section has incredible food and drink related deals specific to cities all over New Zealand. They change from day to day, and are for a variety of different dining experiences.
BookMe's 'dine out' section has an extensive list of deals that will get you much more bang for your buck around the Queenstown, Southern Lakes and Fiordland area.
Groupon list a number of restaurant coupons in the Auckland and Wellington region.
Hit up the Absolutely Positively Wellington website for up-to-date regular dining deals for every day of the week. Two for One at Chow is always a favourite.
If these sites aren't producing the desired results, try googling the name of the town or city in plus the word "deals" and it should come up with an overview of the deals in that town or city...

Back to Top.
DIRT-CHEAP OR FREE COMMUNICATIONS IN NEW ZEALAND

Although it can be lovely to cut the relentlessly tugging strings of communication while travelling, it can also be darn inconvenient. We've come up with some ways to keep in contact and utilise the internet without paying a small fortune in roaming fees.

Skinny Mobile is New Zealand's budget phone network, with top-ups as low as $8. To join this network, pay just $2 for the SIM card and then choose the top-up combo for your desired needs.
2degrees offers a free sim card to get started with their network, and their cheapest pre-paid plan is the $19 per month, carry-over package.
Spark offers a free SIM card when you sign up to their pre-paid packages. Their $9 package provides unlimited text messages and 30 minutes worth of calling which is ample for a traveller.
With Vodafone NZ you get a SIM card for $5 when you sign up to their pre-paid packages. These packages start from $9, which includes texts and calling minutes.
All over New Zealand there are free wi-fi locations and to be in the know of where to go, just visit the free wi-fi website.
If you join the Spark Mobile Network you automatically get access to 1G of free wi-fi at over 1000 locations all of New Zealand. There is a map with the nearest free wi-fi location.
Most of the larger NZ cities have free wi-fi in their central buisness districts.

Wellington's free WiFi is named cbdfree and is available for 30mins uninterrupted, however, you can access it again straightaway.

In Auckland the wi-fi is named AucklandWiFi@Tomizone and is available for 30mins per day, per device.

In Dunedin you can access free internet in the Octagon under the name 'Octagon free WiFi. This area has a lot of cafe's and bars so you can have a drink while performing your communication duties.

In Tauranga there is free public WiFi under the name of 'EOL_public_WiFi' and you can gain access to 500MB per day (24 hours since last login).

Viber is a fantastic way to keep in touch with family and friends back home because it's absolutely free if you have an internet connection. You can use Viber to call, text and send pictures to anyone in the world.
Likewise, Skype can be used not only to make video calls but also voice calls and to send messages. It is free to download and as long as you are connected to the internet the communication is free to use.
WhatsApp is an application that enables you to 'chat', send images and voice notes to your friends and family for free.
We hope that you have enjoyed this article. If you know any other great idea to save money while travelling in New Zealand, please let us know on our Facebook page.
Now check out the amazing deals below, because free travel starts with a free rental car: