So you have booked a car using Transfercar and managed to find one with three days to get from Wellington to Auckland, Yay!  If you want to just drive and get there as soon as possible then that's about 7 to 8 hours if you go straight up State Highway 1. But with three days, why rush? You can take some time to explore. The obvious first choice is to stop in Taupo and explore Tongariro National Park.
But if you want to be a little more adventurous, you could go via Wanganui with its famous River and Art Community including the magnificent Sarjeant Art Gallery. After that up through the rugged limestone hills north of Wanganui that form the  steep and curvy Parapara highway straight to Mount Ruapehu which has absolutely amazing views of a large part of the North Island. Alternatively you could head out to take a look at Mount Taranaki via the towns on the way like Patea, Hawera and Stratford. From New Plymouth the drive is easy up the west coast all the way to the glow worms at Waitomo Caves and then on to Hamilton.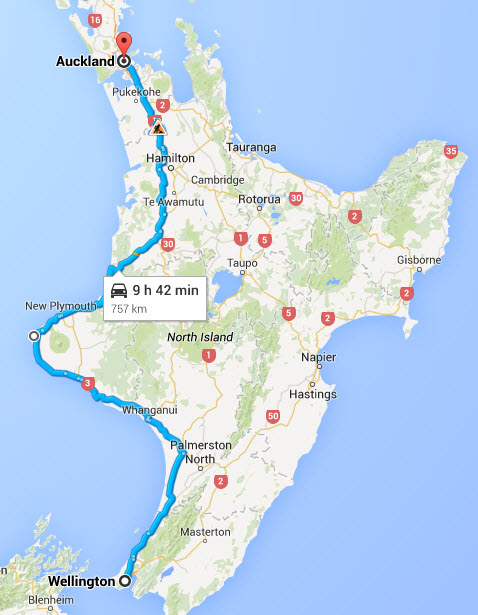 Option 2 – through Taranaki
The sexy alternative is to go East. From Wellington,  drive through Upper Hutt and all those towns ending in 'ton' Featherston, Carterton, Masterton, then up through Hastings to Napier. After the earthquake in February 1931 a lot of the new buildings in Napier were built in the art deco style and the town is often referred to as the 'Art Deco Capital of the world'. From Napier, the drive around the much vaunted Hawkes Bay could provide the opportunity for a bit of sun, fun and relaxing on the beach and the wines are very good too!
From there, on to Gisborne and  some of the magnificent coastal scenery of the Pacific Coast Highway. Tolaga Bay is where Captain Cook stayed six days repairing the 'Endeavour' and taking on water and supplies and Tolaga Bay Wharf  at 660 metres in length is the longest in New Zealand.
Wow so much to do, can we fit it all into the three days we have or will it take longer?  From Whakatane it looks an easy drive through to Rotorua and the endless wonders of bubbling mud pools, Maori culture and a long soak in a natural hot spa – now that sounds nice! Or should you take the coastal highway around the Bay of Plenty through Te Puke and Papamoa Beach to Tauranga and the  holiday spot Mount Maunganui ? From there it's just a short trip to Thames and then on to Auckland.